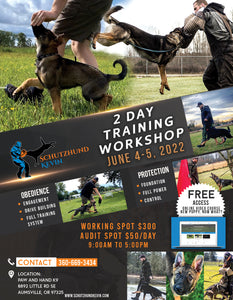 I will be having a 2-Day Schutzhund Training Workshop on June 4-5. Come on out and learn my full training system, and get hands-on help. This workshop is for anyone wanting to learn more and improve their Schutzhund training. We will be covering the full Schutzhund obedience routine and we will be covering protection foundation work all the way to the trial-ready dog.


My goal is to help you to access the full potential of you and your dog. We will make solid progress towards those goals!


Come learn my full training system from puppy to competition. I emphasize taking the simplest and most effective training path that leads to the most points when it matters, in an actual trial.


The methods I have found to be the most reliable are simple to apply. Minimizing confusion builds a balanced and happy team. You will be PREPARED on trial day.

Location: 
Paw and Hand K9
8892 LIttle RD SE
Aumsville, OR 97325